GQ JAPAN (ジーキュージャパン) 2018年04月号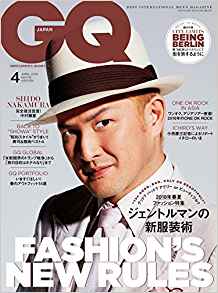 内容紹介
COVER STORY
中村獅童 完全復活宣言!
FEATURE
■特集 Fashion's New Rules「ジェントルマンの新服装術」
-The Meeting of the Design Gods 名作スニーカー、誕生秘話
-Reigning Supreme シュプリームのこれまでとこれから
-My Rules and My Idols マイ・ルールと理想の紳士
-"Gentleman" Politics ジェントルマンってなんだ?
-How to Dress Like a Real Brit 英国的紳士の着こなし
GLOBAL
■Get a Room ホテルが旅の目的なり
■Ford Estate 完成間近のフォード・エステートより
■Paper Tigers "紙々"の戦い
SPECIAL
■Amazon Fashion Week Tokyo"フライノック"というブランドを知っているか
DETAILS
■The Movie ゲイリー・オールドマンの怪演に注目されたし
■The Man of the Month 吉沢 亮、直球投げました
■The Bicycle 新作ロードバイクが220万円なり!
■The Motor Show 話題のクルマをピックアップ!
■The Fashion Let's Play with HERMÈS エルメスで遊ぶ
■It Girl 今フォローするべきブレッヒェ・ハイネン
■The Fashion 2018年春夏の「5人のジャーナリストのベストルック」
FASHION
■Dress Up Spend Down 10万円で最新ルック!
■The Best Spring Outfits 春のアウトフィット 14選
SERIES
■GQ Hero イチローのいま
■GQ Rock アジアを席捲、ONE OK ROCK
■GQ Taste 寿司&焼肉・昭和スタイルほか
■GQ Cars イタリアンカーに恋焦がれろ
■GQ Watches 2018ジュネーブサロン速報 時計の目利き+編集部のイチ押しはこれ!
■GQ Business ローレンス・ホーとは何者か?
GQ JAPAN (ジーキュージャパン) 2018年04月号